| | |
| --- | --- |
| | Tuesday, September 22, 2020 |
You have more time to complete our online survey if you have not done so already! We want to hear from you on how to build an accessible Canada for all!
Participate before September 30, 2020 to help us determine:
●  how we can engage with you
●  the research priorities for our next call for proposals
●  the areas of focus for our next set of accessibility standards
You can also participate by email, mail, phone, and in American Sign Language or Langue des signes québécoise! Visit our consultation webpage for more details on how to participate.
Please call or email us if you have any accessibility needs or questions.
Phone: 1-833-854-7628
We look forward to hearing from you!
Many thanks,
The Stakeholder Engagement Team
| | |
| --- | --- |
| | Tuesday, September 22, 2020 |
We are all navigating a lot of uncertainty!  As we work toward transitioning children back to child care and classrooms, a group of community agencies have come together in the interest of creating resources.  "Not Another Webinar" has been created with parents and educators in mind, to support finding tools and strategies to have a smooth and successful transition for not only the children, but for the parents and educators as well.
The short videos and compilation of valuable resources you'll find at Not Another Webinar were created by our community partners on topic areas such as Strategies for Challenging Behaviour, Tapping Into Your Resilience and more.  They were put together specifically to help you save time and get exactly what you need, right now.  Not another webinar is a collection of short and easy to implement lessons that will make your transition back to a classroom that much better!"
This resource was put together by staff from: Kidsability, KWHab, DSRC, EarlyON, Early Childhood PRC, SNAP, SNRC and of course the CYPT.
| | |
| --- | --- |
| | Tuesday, September 15, 2020 |
Since March of this year, families have had the challenge of providing education at home in a time of a pandemic. For families who have children with disabilities, this has been an even more challenging time, with many families seeing their regular, IEP-mandated supports stopped or dramatically changed. Families may have also seen differences in interactions with teachers and other school personnel. Now, as students begin to return to school in the fall, it is critically important for families to share their needs to support their child with a disability to be successful.
Researchers from Queen's University have partnered with the Family Alliance of Ontario to develop a short online survey (approx. 20 minutes to complete) to gather family perspectives about partnership with teachers in a time of COVID-19. They are looking for volunteers to participate in this survey – you are eligible if you are a caregiver of a child with a disability who is in the Ontario K-12 public school system.
In order to capture experiences that will occur as students resume school in various formats this month, we have extended the window to complete this survey until September 30, 2020. Results will then be compiled and shared with families and school stakeholders (school boards and the provincial government) to help inform and improve partnership with families in the 2020/2021 school year.
In appreciation of your time, you will be entered into a draw to win one of thirty $15 Amazon.ca gift certificates.
Click on this link to learn more and participate.  https://gmucehd.az1.qualtrics.com/jfe/form/SV_6PhSPzCtXdiCeFL
For more information about the survey, contact Heather Aldersey: hma@queensu.ca
| | |
| --- | --- |
| | Tuesday, September 8, 2020 |
Returning to school in the fall is an anxious time for both parents and students. These feelings are only magnified when your child suffers from mental health challenges. The "Supporting our Children's Mental Health as they Return to School" webinar offers tools and tips on supporting your children as they return to school.
Parenting author and mental health advocate, Ann Douglas, was the keynote speaker for the discussion, followed by a panel of educators and parents, including: Holly Sabara, Chair of Parents for Children's Mental Health and CMHA WW Family Council; Kellie Angerilli, St John Bosco Catholic Secondary School Principal; and Jennifer Meeker, Upper Grand District School Board Principal.

View the recording online here.
| | |
| --- | --- |
| | Tuesday, September 8, 2020 |
Welcome to September! 
Inside the September issue of Family Pulse you will find information on:
Thank You, Cowan Foundation!
Back to School Q&A
Managing Overwhelm in the Big Wide World
SEAC Updates
What's Happening at WRFN
Information, Resources, & Opportunities
You can read the online version of Family Pulse here or download a pdf copy. 
| | |
| --- | --- |
| | Tuesday, September 8, 2020 |
As students, parents and educators begin to navigate their way back to school after a six month "break", Canada Mental Health Ontario has recently launched a newly developed resource that supports school re-entry. Click here to access the resources.
| | |
| --- | --- |
| | Tuesday, September 8, 2020 |
Adults in Motion Cambridge has expanded their services to include a weekly LIFESKILLS RESPITE PROGRAM on Tuesdays and Thursdays from 3:30-7:30pm.
Take a break and enroll for evenings of one to one learning in the kitchen, practicing life skills and relaxing while safely socializing with friends. 
465 Avenue Road
Cambridge, ON
$67/session.  Dinner cost included.
For more information about this program and to learn about our robust COVID safety measures, please call or visit AdultsinMotion.org, Southern Ontario Disability Programs and Services.
| | |
| --- | --- |
| | Tuesday, September 8, 2020 |
Check out this timely child and youth well-being data released by the Children and Youth Planning Table Youth Impact Survey – Data Briefs surrounding mental and emotional health and belonging are now available.
| | |
| --- | --- |
| | Tuesday, September 1, 2020 |
On August 18, WRFN hosted a virtual Back-to-School Q&A session as part of our monthly School Issues Support Group. We would like to thank superintendents, Laura Shoemaker (WCDSB) and Scott Miller (WRDSB), for answering our many questions.
Please keep in mind that things are evolving. Responses have been provided with the most up-to-date knowledge at the time. ​Click here to view the questions & answers shared during the session.
| | |
| --- | --- |
| | Tuesday, September 1, 2020 |
Check out what Recreational Respite has on for virtual programming this September 2020!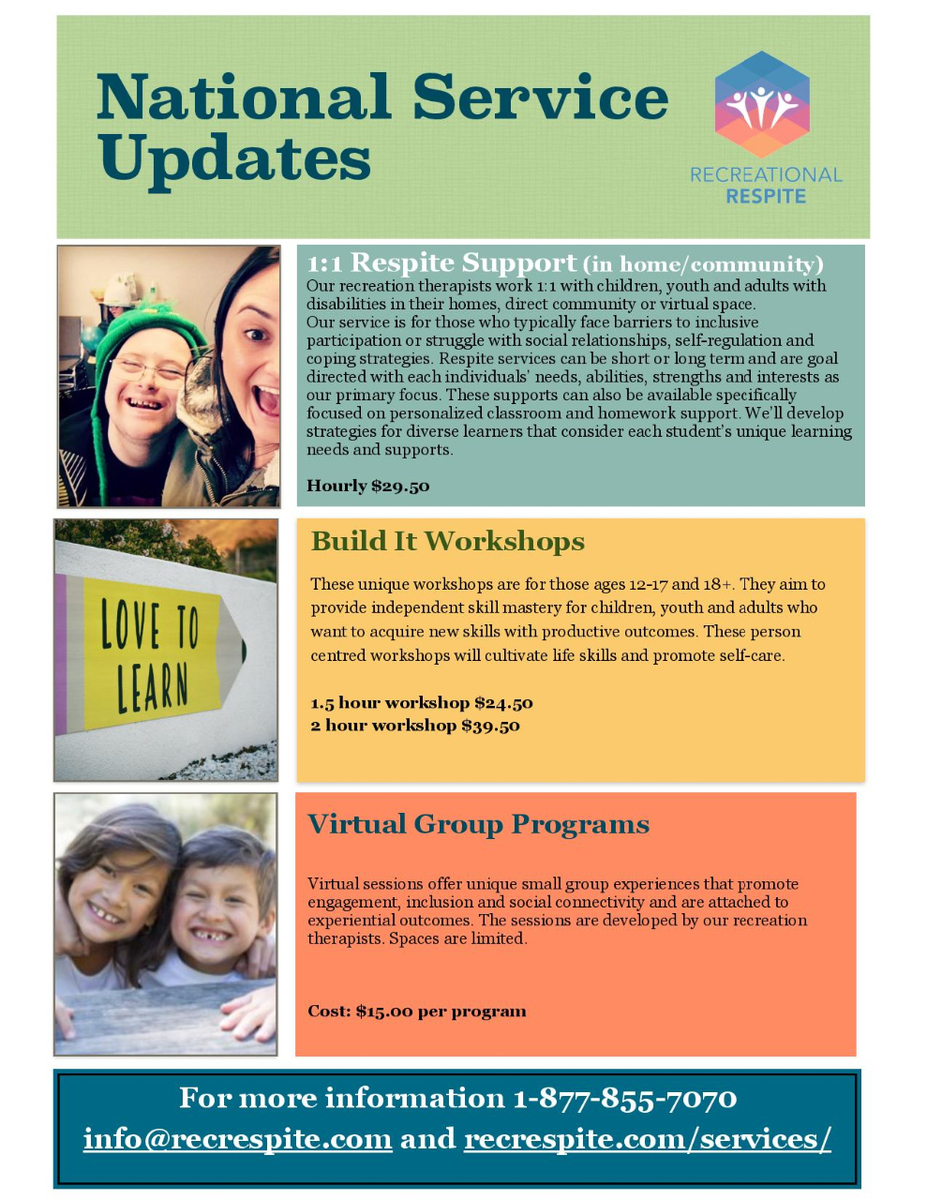 Contributors
Latest Posts
Archive
Tags
Everything
WRFN Newsletter
Newsletter
Research
Resources
Programs
SEAC
Adults
Children
Youth
Conference
Job Posting
Government
Support
Autism
Survey
Camp
ADHD
FASD
Workshops
Counselling
Down syndrome
Events
Cristina Stanger
Carmen Sutherland