| | |
| --- | --- |
| | Tuesday, September 1, 2020 |
Check out what Recreational Respite has on for virtual programming this September 2020!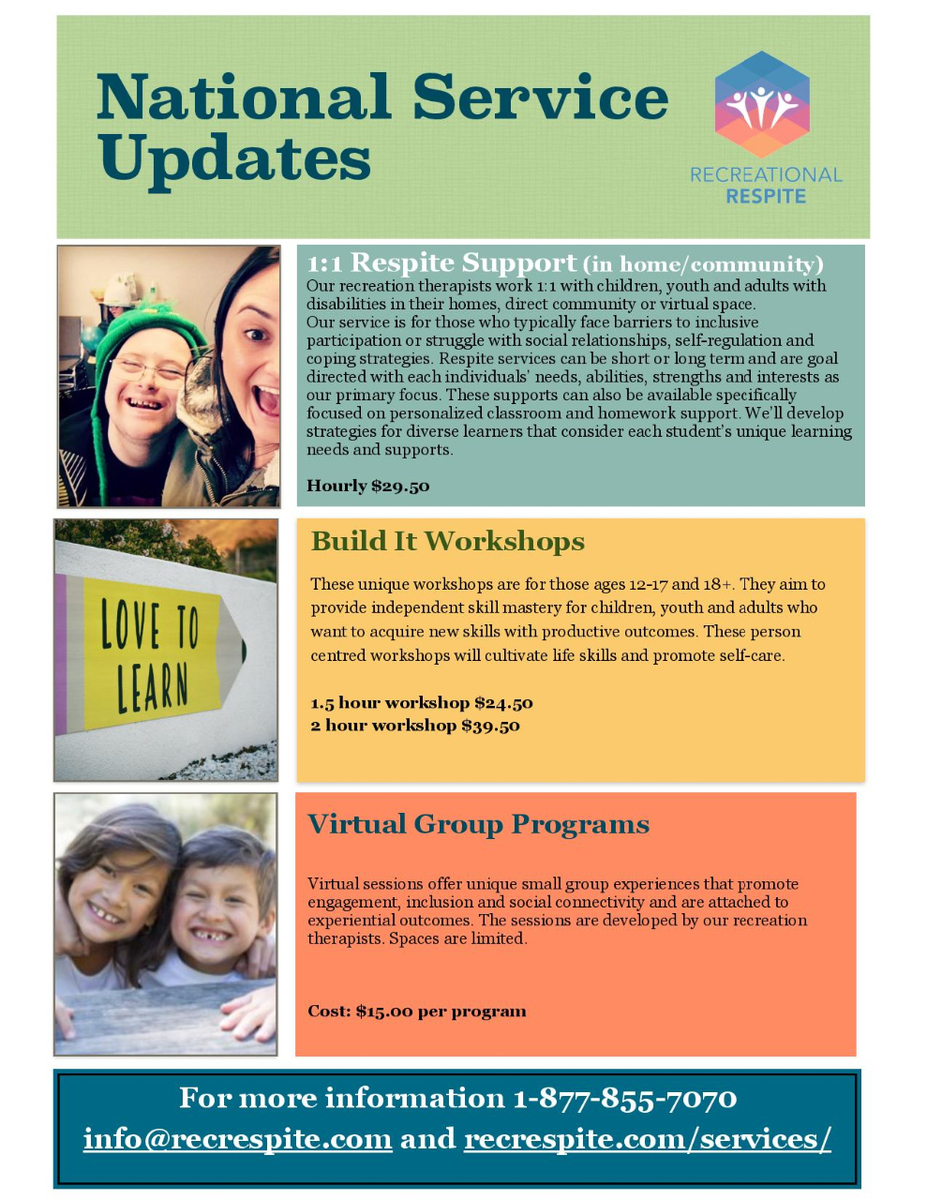 Bridges to Belonging is pleased to announce the launch of a new initiative for youth experiencing social isolation and barriers to inclusion who self identify as living with a disability or dual diagnosis. 

Thanks to funding from the Lyle Hallman Foundation for the Resilience Project,  Bridges to Belonging is launching Phase 1 of LINKS for youth ages 14 to 24 beginning in September.

Phase 1 is a series of five virtual workshops over a 5-week period offering a journey of self-discovery, personal growth, and community connection via ZOOM.  Each youth can have one or two people who they are in a meaningful relationship with and who know them well (parent/guardian, sibling, other relatives/extended family member, friend, neighbour teacher, coach or other community members) participate with them to learn, grow, and build a network of support.

Participants will need access to a computer, laptop or tablet equipped with speakers and a good microphone (or headset); a built-in or external HD webcam and availability of a stable internet connection.
Create your ideal learning plan by taking the full certificate program, or any of the individual modules (webinars).
 
This certificate program will be offered as a webinar only.
Dates: September 17, October 20, November 26, 2020 and January 19, February 23, 2021
Facilitators: Andrea Warnick, RN., MA., RP., Liana Lowenstein, MSW., RSW., CPT-S., Lysa Toye, MSW., RSW., Rev. Andrew Blake

This training is suitable for: Any professional or volunteer who is in a position to influence the support received by a grieving child. This includes front-line workers and volunteers such as medical professionals, educators, clergy, social workers, administrators, residential workers, counsellors, funeral service providers and hospice volunteers.

Please note; Each of the modules (webinars) may be taken on their own as a stand-alone training, however all five days must be completed to obtain the certificate.
Overview: Grief is a confusing and isolating experience for any person, old or young. Children's grief, however, differs considerably from adult grief, resulting in the needs of grieving children often being overlooked or misunderstood. This can have a profound impact on the social and emotional development of a child. Caregivers, including the most skilled professionals, often feel helpless when supporting children through the death of someone close to them.

The Certificate Program in Children's Grief and Bereavement explores the roots of our cultural discomfort with the topic of children and death and exposes common myths and misconceptions. This certificate program equips you with skills to provide support to children, youth and families grieving the dying or death of someone they care about. Adults cannot change the reality of a death occurring in a child's life, but with the right tools they can play a powerful role in shaping the story of the child's grief experience and therefore help the child thrive in life.
Module 1: Children at the Bedside.
Module 2: When Death Darkens the Door.
Module 3: When Grief Gets More Complicated.
Module 4: Using Mindfulness and Compassion to Support Grieving Children/Families.
Module 5: Dancing in the Darkness.
For more details, click here.
 Mighty Hawks is committed to working with individuals with developmental disabilities in the Kitchener-Waterloo community.  Our mission is to help each participant foster a greater independence in the community, build meaningful relationships and feel confident in pursuing their personal goals.
This is achieved through interactive workshops focussed on developing work ready skills with an emphasis on hands-on learning, encouraging participation and social interaction with dedicated one-on-one support from Mighty Hawks facilitators, a passionate group of students at Wilfrid Laurier University. This enables participants to build valuable relationships with facilitators and each other, with individualized support in a fun environment every step of the way.

Learn more about the opportunities to be found through the Mighty Hawks program by clicking here.
Families Canada (FC) and the Centre of Excellence for Early Childhood Development (CEECD) are pleased to launch Early Childhood Development in a Time of Pandemic, a webinar series created in response to the current COVID-19 climate. The webinar will highlight some possible effects of the pandemic on young children's behaviours and emotions and discuss ways to support children, families and service providers through a series of presentations and open plenary. 

Isabelle Vinet, an expert in the prevention of disruptive behaviours during early childhood and Executive Director of the CEECD, will facilitate the series.
 
When?
Every Wednesday starting April 22, 2020, at 1 PM ET in English and 2 PM ET in French. 

How do I join?
Please register in advance for this webinar series at this link!
After registering, you will receive a confirmation email containing information about joining the webinar.

What's on the agenda for this week? 
Introduction and welcome
Presentation on self-regulation in early years
Q&A and plenary
Wrap up
 
If you have any questions on the topic Self-Regulation in Early Years please send them by Tuesday, April 21, to kristell.lemartret@umontreal.ca and we will try to answer them all during the webinar. 
 
Upcoming topics include emotional expression, play, prosocial behaviour, peer relations, brain development and more. Stay tuned! 
In response to the COVID-19 situation, all in-person workshops scheduled for the spring and summer have been cancelled. We are hoping to have additional online programming available for the fall. In the meantime, we have added more sections of our courses that are already available online. We will continue to add as many sections as we can, but it will depend on the availability of instructors.
Updates on Laurier's response to the COVID-19 situation are posted regularly on the coronavirus information page.
We know many of you are essential workers who are doing incredible work to support your clients, patients and students right now. Thank you for being the superheroes in our communities.
Available Online Courses
Addictions
Fundamentals of Addiction
Pharmacology
Addiction and the Family
Trauma and Addictions
Engaging Complex Clients: Working in Addictions with Specialized Populations
Trauma
Foundations of Trauma
Trauma and Addictions
Cognitive Behaviour Therapy
Level I: Fundamentals of CBT
Level II: CBT with Mental Health Disorders
Foundations in FASD is a basic training course intended for everyone that will come into contact with individuals with FASD including all sectors of work, families, individuals with FASD, spouses, and the general public. This foundational level training program provides the perspective of individuals who have FASD, is evidence-based, employs a culturally sensitive approach, and is presented in a way that is responsive to the learners needs. This online basic training course will take on average two hours to complete.
Level 1 training will provide knowledge and understanding of:
an overview of FASD assessment and diagnosis in Canada
an introduction to FASD interventions and promising approaches
the effects of prenatal alcohol exposure on the fetus
the impact of alcohol on brain development
issues related to stigma and FASD
strategies for prevention and support
barriers to prevention and support
the signs and symptoms of FASD across the lifespan
A certificate will be provided to each participant upon completion.
Register here.
 
National Empowerment Workshop Series II:
This virtual workshop series will be offered every Thursday, 12 p.m. – 1:30 p.m. Eastern Time, from April 9, 2020 until June 25, 2020. The National Empowerment Workshop Series II will provide participants with an opportunity to immerse themselves in virtual educational workshops focusing on empowering people to live the lives they choose. 
Registration required.
To register for this program, please contact Larissa Proctor, Team Lead, Accessible Community Engagement at Larissa.Proctor@cnib.ca.
Come To Work: Online Boot Camp Workshops.
This 6-week virtual workshop series will be offered every Wednesday,1 p.m. – 3 p.m. Eastern Time, from April 8, until May 13, 2020. Put your best foot forward, brush up on the skills you need to compete and be successful in the workforce. Come to Work Boot Camps are weekly virtual sessions that explore a variety of topics. 
Registration required.
To register for this program, complete the Microsoft Office Registration Form.
Contributors
Latest Posts
Archive
Tags
Everything
WRFN Newsletter
Newsletter
Research
Resources
Programs
SEAC
Adults
Children
Youth
Conference
Job Posting
Government
Support
Autism
Survey
Camp
ADHD
FASD
Workshops
Counselling
Down syndrome
Events
Cristina Stanger
Carmen Sutherland