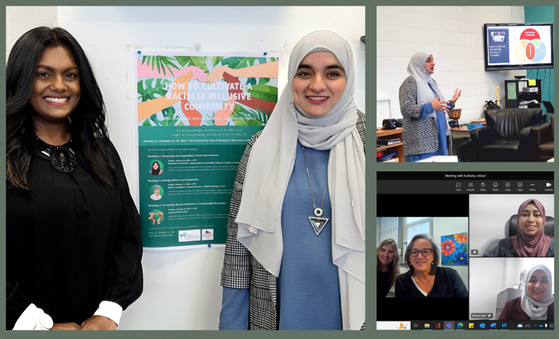 Thank you for being part of the conversation...
And taking action to counter Islamophobia and hate
The show of support from you all at our Jan. 29 Townhall warmed our hearts. Our audience members asked the Waterloo Regional Police Services (WRPS) chief, Mark Crowell some tough questions:
-How are you ensuring diversity in the WRPS workforce?
-How do all parents protect their kids from being radicalized online?
-What work are you doing to change archaic laws that dictate policing?
-How will WRPS make sure that use of force in Canada doesn't reach U.S. extremes?
We heard the words, but we're waiting for action on all of these areas of concern for our racialized community members. We will be working with the community AND police to ensure steps are taken to bring about change in policy and community.  In February, the Together Against Islamophobia team will be busy with anti-Islamophobia training sessions, a Tea and Tales with Muslim Women event, and an information session being organized for the WRPS.
South Asian (Desi) women are invited to an employment services virtual session with a YMCA of Three Rivers staff member on Feb. 4. All Community Support Workers continue to meet residents at Kitchener community centres. Munazza, our South Asia Community Support Worker, is also organizing a digital literacy program for all residents of Paulander neighbourhood. The program will be held at the Paulander Community Centre and begins on Feb. 10. The programs is fully booked now, but if you want to participate in more of our workshops, click here.
Our Community Support Workers are out and about in the community. Take a look at their schedule and come out and talk to them about all the services the Together Against Violence Free Homes program and CMW offer

Mondays:
Victoria Hills Community Centre
10 a.m. - 12 p.m.
Chandler Mowat Community Centre
12 p.m. - 2 p.m.

Wednesdays:
Victoria Hills Community Centre
10 a.m. - 12 p.m.
Chandler Mowat Community Centre
10 a.m. - 12 p.m.

Thursdays:
Paulander Community Centre
1 p.m. - 3 p.m.
Erb West Share and Care House Women's Group
1 p.m. - 3 p.m.
Forest Heights Community Centre
12:30 p.m. - 2:30 p.m.

Fridays:
Victoria Hills Community Centre
10 a.m. - 12 p.m.
Chandler Mowat Community Centre
4 p.m. - 6 p.m.

To reach one of our multilingual CSWs, please contact TVFH program coordinator, Wisam Osman at  or via phone at 226-978-9634.
Youth Leaders 4 Change is inviting all racialized Muslim youth, aged 14-25 to a free movie night on Friday, Feb. 10. 
YWCA Cambridge - The W 20 Dickson Street, Unit 101
06:15 p.m.- 8:15 p.m.
Bring family and friends, get volunteer hours. enjoy snacks and join the discussion!
Register with Fatima Awan, Engagement and Outreach Lead.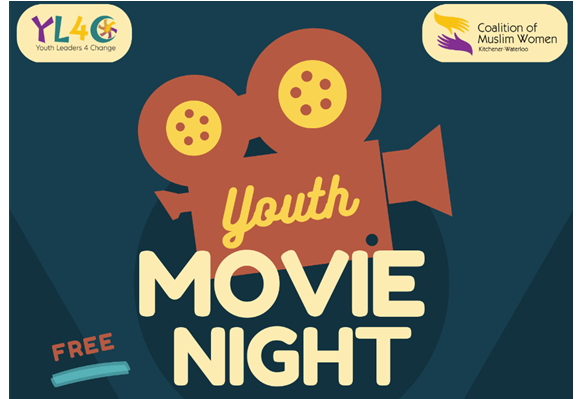 Women Building Women
Our Women Building Women program has been busy with Rising Together: Women Entrepreneurs, participants of which are getting ready to launch their businesses. In fact, three of them already have done so! We will soon be wrapping up the program with a showcase of all businesses Stay tuned!
 Anti-Hate Services 
Anti-Hate Services work in January:
Maryam Farooque, our Anti-Hate Services coordinator, will be at several Kitchener community centres, such as Forest Heights Community Centre, Erb West Share and Care House, and Chandler Mowat Community Centre, throughout January. If you're dropping by one of these community centres, please say hello to Maryam and find out more about our Anti-Hate Services. She will be at Forest Heights Community Centre on Feb. 9, from 12:30 p.m. till 2:30 p.m., at the Erb West Share and Care House from 10 a.m. till 12 p.m. on Thursday, Feb. 16, and from 10 a.m. till 12 p.m. on Wednesday, Feb. 22 at Chandler Mowat Community Centre.  Maryam will also be doing various speaking engagements with the Jewish, Muslim, and Black African communities. 
Case Numbers
By the end of January, our Anti-Hate Services received 16 new hate cases. Our staff continues to work with nine (9) clients, providing them ongoing support services.
Check out some photos below from the Anti-Hate Services information sessions and Maryam's community centre visits in January. On the left, Maryam is pictured with a TVFH colleague and volunteers at the Erb West Share and Care House. On the right, Maryam is pictured with ladies from the Temple Shalom. If you know someone that is facing hate or you have witnessed hate, please report it to our Anti-Hate Services staff at: 519-722-2449.