CYPT Belonging Expo is Back!
Date: Thursday, September 28, 2023
Time: 2-8 pm
Location: Kitchener Public Library Central Branch

2-5 pm: The daytime is geared toward CYPT members. We will send another email at a later date with info on how members can register to attend. In the meantime, please reserve this time in your calendars.

6-8 pm: The evening portion will be open to the public. Any CYPT members who aren't able to come during the day are welcome to come in the evening.
Booth spots are running out fast!
Would your organization like to have a booth at the upcoming Belonging Expo? It's not too late!
We have ONLY 3 spots remaining. Registration is on a first-come-first-served basis. For more information, including the link to sign up your organization, click here.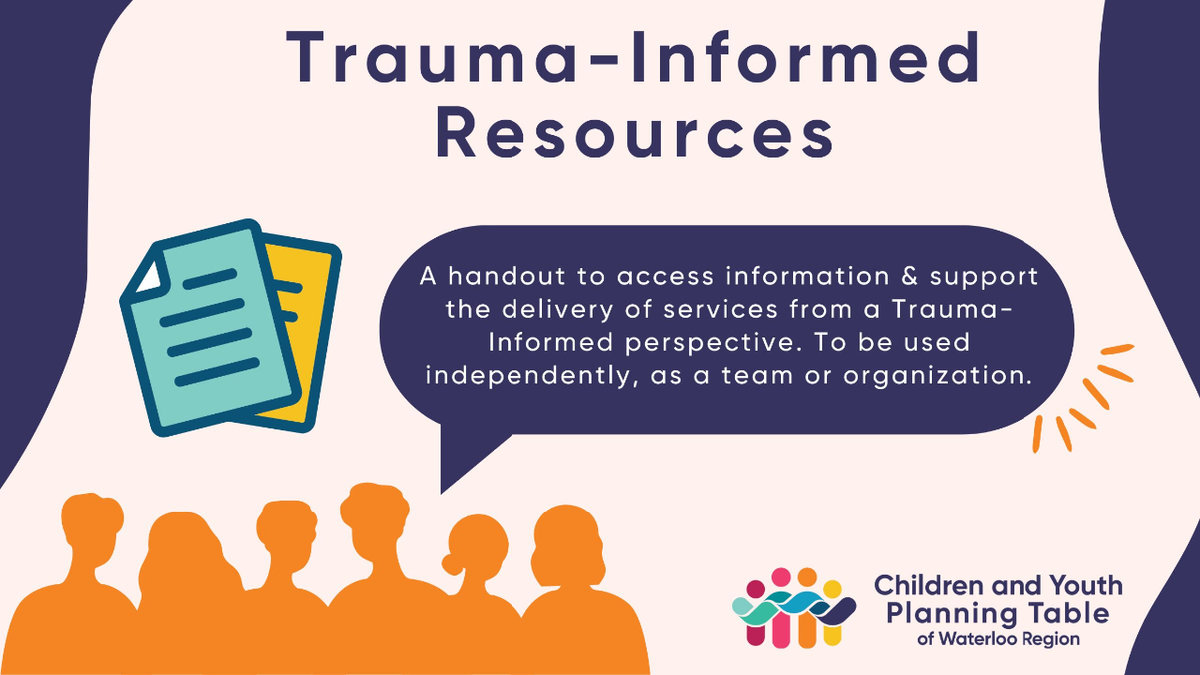 The Continuous Professional Learning Committee (CPLC) is excited to share a set of Trauma-Informed resources!
Click here to view the resources
This repertoire of Trauma-Informed resources was compiled in response to our community's interest in accessing information to support the provision of services from a Trauma-Informed perspective.
These resources are designed to be used independently, or as a team, department or organization. We want your input! Please click here to fill out this feedback survey to help us improve these resources.
Exciting developments on free GRTransit ridership for youth
"Make public transit more affordable and accessible"
Young people in Waterloo Region (Action #62, Data in Action)
One of the key barriers young people in Waterloo region have raised is cost of transit. Elected officials at Regional Council, City of Kitchener Council, and Waterloo Region District School Board (WRDSB) have also been interested in exploring this barrier.
CYPT has been supporting the coming together of Region of Waterloo Grand River Transit, City of Kitchener, Student Transportation Services of Waterloo Region, WRDSB, and now Waterloo Catholic District School Board to discuss their shared interest in free transit ridership for young people (starting with high-school-aged youth.)
What would it take to make this possible? What would the benefits be to our community (including belonging)? To help us as a community see what's possible, work has begun with RunWithItSynthetics.
Through funding support from Economic Development, a synthetic Waterloo Region (think Sim City) is being created – off of which, groups can ask questions to help plan for the future. And the first question to be asked will be 'what would happen if transit ridership was free for high-school age young people?' Grand River Transit (GRT) is funding this question and it will directly inform the 2024 GRT Business Plan. Stay tuned for the CYPT annual forum invite and the opportunity for all to see what is emerging from this exciting project!