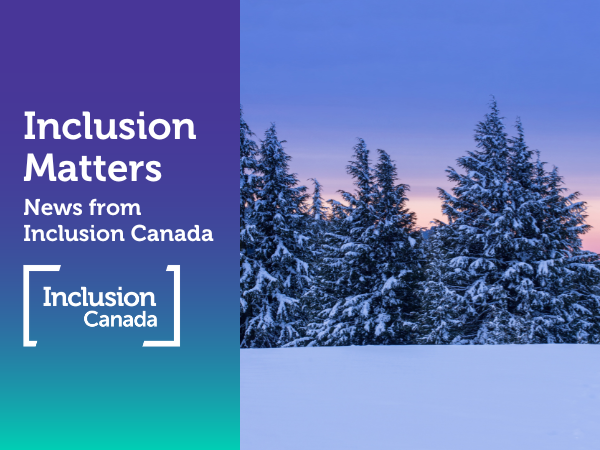 OTTAWA, ON – Inclusion Canada is encouraged to see the federal government prioritize disability inclusion throughout Budget 2023. Some victories are obvious, and others are a bit more nuanced.
"While some elements of the budget are promising, far too many people with intellectual disabilities are living in dire poverty" says Robin Acton, President of Inclusion Canada.. "As parents, our constant worry is the financial security of our children.  We urge the swift passing of Bill C22, the Canada Disability Benefit Act, our family members cannot wait".
Yesterday's budget committed $21.5 million to the groundwork for the development of the Canada Disability Benefit. We are encouraged by this commitment ,however we will be looking for a more substantial commitment to the actual funding of the benefit in the fall economic statement after the Bill receives royal assent.
Buried within Budget 2023 was an important nod to people with intellectual disabilities' right to decide. Budget 2023 extends the "qualifying family member provision" until December 2026 and has extended this provision further to allow siblings to also become plan holders where the decision making capacity of the individual with the intellectual disability is called into question. Most importantly, the federal government has issued a call to action to the provincial and territorial governments to address issues around guardianship for people with intellectual disabilities. We call on all levels of government to respect Article 12 of the United Nations Convention on the Rights of Persons with Disabilities and enact, without delay, supported decision making legislation.
"The UN Convention on the Rights of Person with Disabilities is clear - all people have the right to exercise their right to decide" says Executive Vice President of Inclusion Canada, Krista Carr,. "Inclusion Canada will continue to demand that the Federal Government take the lead in abolishing legislation that violates the decision-making rights of persons with disabilities."
Another subtle victory for people with intellectual disabilities in Canada: the government intends to pilot a new automatic tax filing system for vulnerable Canadians. This has the potential to remove roadblocks and improve access to government benefits and programs for people with disabilities.
While Budget 2023 is encouraging, it is missing crucial commitments to the disability community such as inclusive childcare, housing, and mental health support. We will work with our disability partners and community to ensure the full inclusion of people with a disability is a top priority in all government spending.