Recreational Respite promotes inclusion, encourages community participation and nurtures social health and connectivity for children, youth and adults, across Canada.
Ages 5 - 100+
One to One Respite Support
Recreational Respite professionals work one-to-one with children, youth, adults and older adults who have a disability, mental health, or face social isolation. Those we support may face barriers to participation and connectivity which effect opportunities for participation. Targeted goals are for positive mental health, emotional wellness, social health and connectivity.

Cost: $36.50 - $38.50/hour
Summer 2023: Offering one-to-one respite support at summer camps and community recreation programs.
Click here to Learn about Respite Support
Virtual Group Programs
Young Adults (Ages 16+)
Virtual group programs for young adults aim to provide independent skill mastery that cultivate and promote self-care, healthy relationships, leadership skills, and explore various topics that address transition and change. Each inclusive program creates opportunities to promote healthy avenues to independence and social health. 
We invite young adults to join us for outcome-based small group programs which cultivate friendships, nurture interests and develop skills for success. This July, try our Taste of Summer Cooking Club, Dungeons & Dragons Capsule Programs, and develop Skills for Success! Registration is required.
All programs are run via Zoom -- See calendar below for options.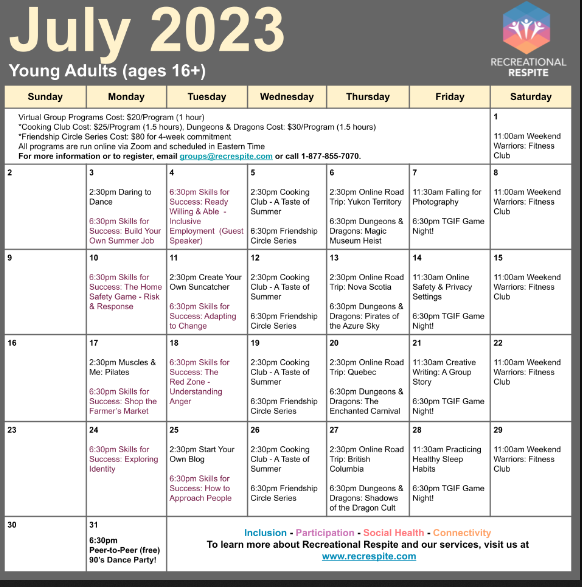 A Gift For Grads
Are you graduating high school?
Recreational Respite has a special gift for you! This July, try any three programs from our Young Adults calendar, for just $3.00 each! Register with code "3FOR3" by emailing groups@recrespite.com.
Offer valid until July 31, 2023 for young adults transitioning out of high school in 2023. Limited to new participants. 
Dungeons and Dragons
Recreational Respite is hosting online Dungeons and Dragons 'capsule' games this summer 2023! Join our Game Master, Kateri for each Thursday in July & August at 6:30PM ET. Learn about Dungeons and Dragons, ask questions, share ideas, and connect with other players! Suitable for beginners, and all ability levels, ages 16+.
For more information or to register, email groups@recrespite.com.
Better Together at Camp Independence
This summer, we are thrilled to partner with L'Arche London at Camp Independence! This 2-week day camp is ideal for adults ages 18-35 who are looking to deepen independent skills. 
Recreational Respite will deliver programs including Conversation Skills, Identifying Healthy Relationships, Navigating Social Spaces, Problem Solving & Communication to these amazing campers!
Email camp@larchelondon.org to learn more or register.