By Cristina Stanger, Self-Advocacy Liaison, WRFN
*This article was originally published in the Family Pulse Newsletter May 2022*
Sometimes you come across a product that speaks to you. I really like the "Everyone is Awesome" Lego® set (40516) for the messages of inclusion and diversity it represents. I purchased it as a shared-activity for my children that would facilitate discussions about race, sexual orientation, and gender identity. My seven-year-old built the wall, my four-year-old assembled the people, and we engaged in important conversations. I chalked it up to a win.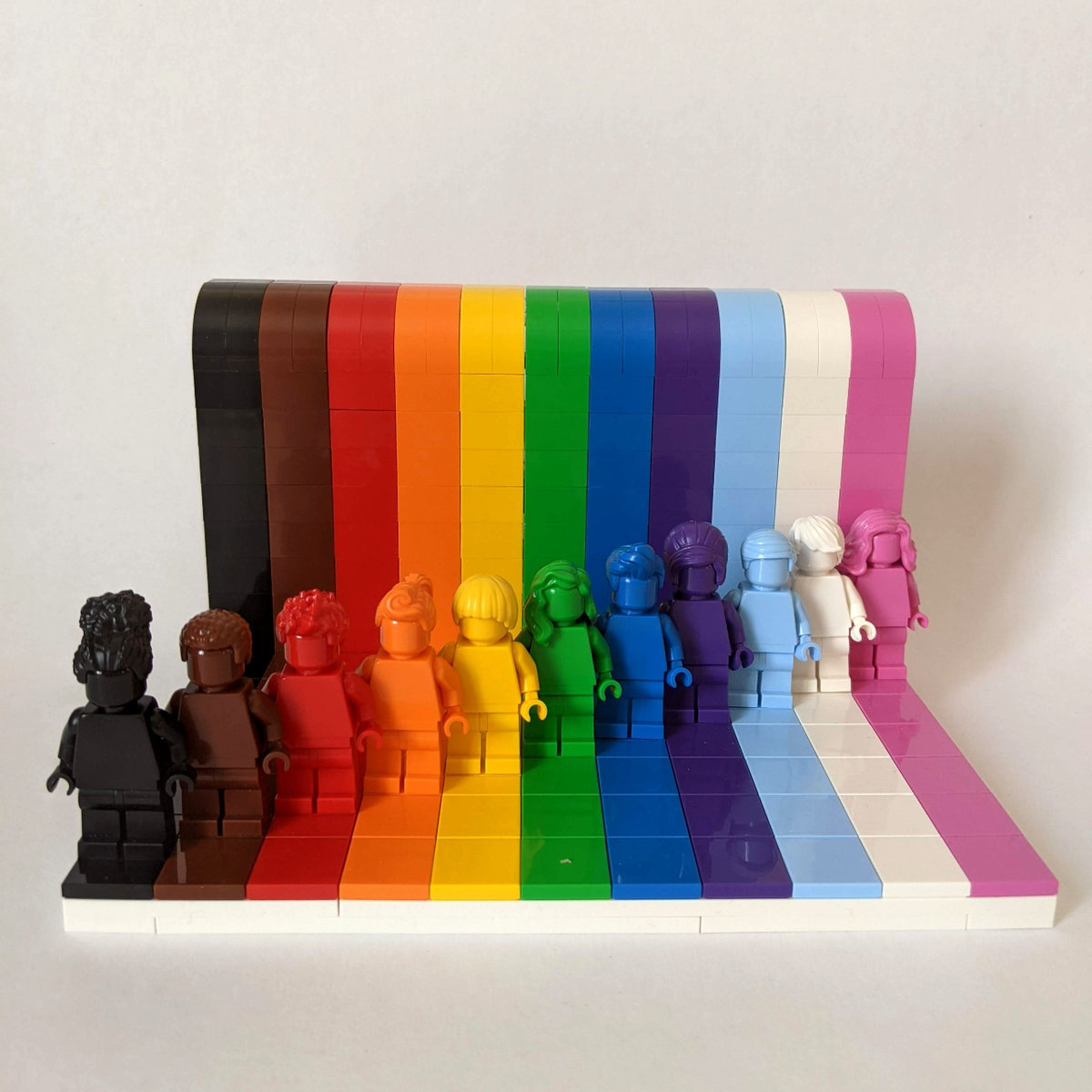 But as we built it, I kept feeling like the idea could have gone farther. There was a clear lack of disability representation, and that seemed to me like a missed opportunity. Afterall, it is said that nearly a third of all people will experience disability at some point in their lifetime. So I determined that at least 4 of the 11 figures needed a visible exceptionality (although in reality many are invisible, like mine). I started wondering if I could modify my set to be more inclusive of those with exceptionalities, in addition to the marginalised groups already being celebrated.

It wasn't long before I was pouring over Lego® sets online looking for accessories I could incorporate. Some sets did have one or two disability-related pieces, but I wanted to take the idea farther, so I settled on ordering piece-meal through eBay. Seeing how many different exceptionalities I could represent with the 11 figures was a fun challenge. And thus, my little passion project was born. #EveryoneIsREALLYAwesome.
 
You may have seen some of these images on our WRFN media feeds already, and I would  like to walk you through the modifications I made and my logic behind them: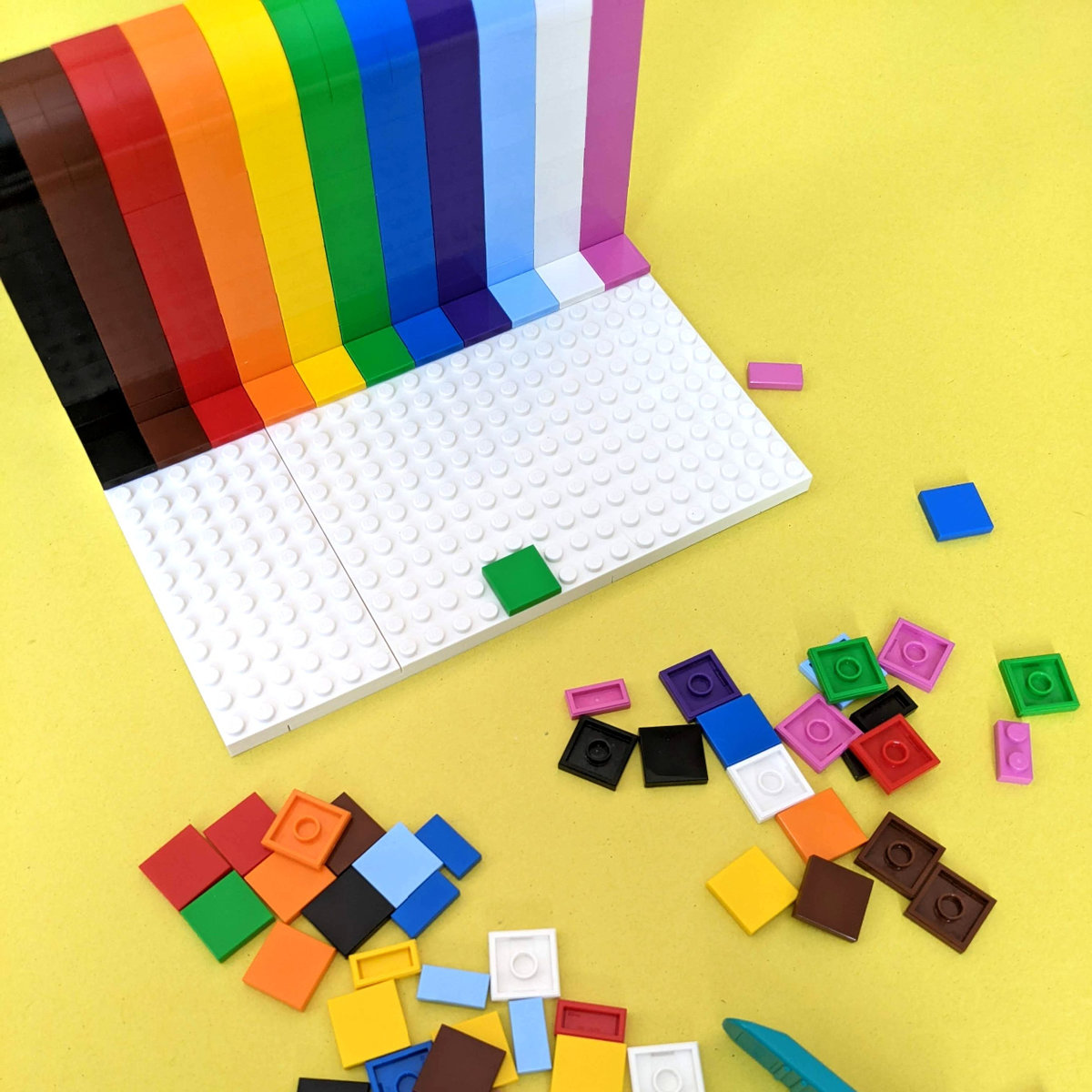 You'll notice that I did not change the background at all as these coloured stripes carry strong meaning for the communities they represent, and they are well understood within society as a whole.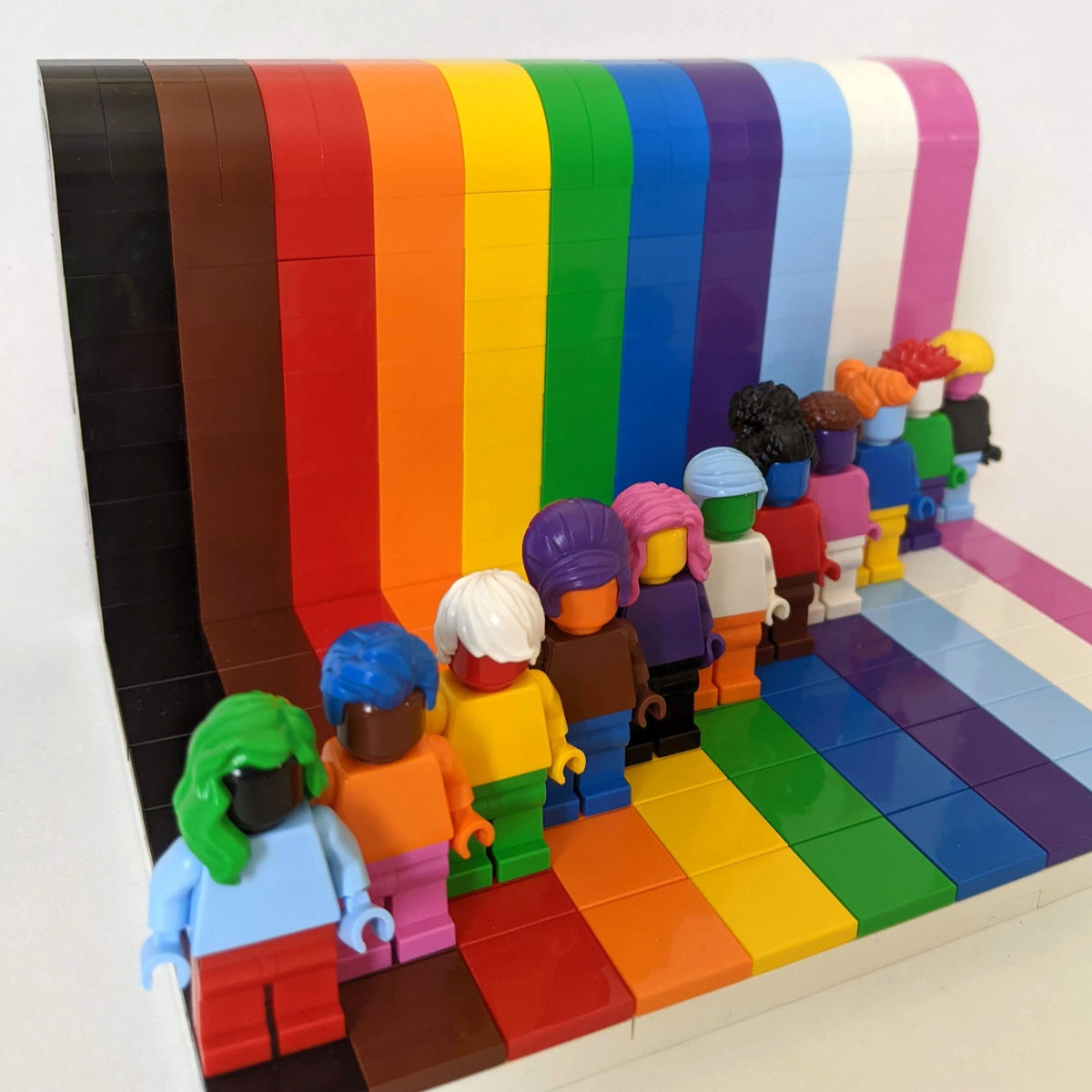 I rearranged the components of the figures, because after all, we are not one dimensional, and some people will identify with more than one of the represented groups. I did, however, keep the hand and face components paired together to be more in keeping with race representation.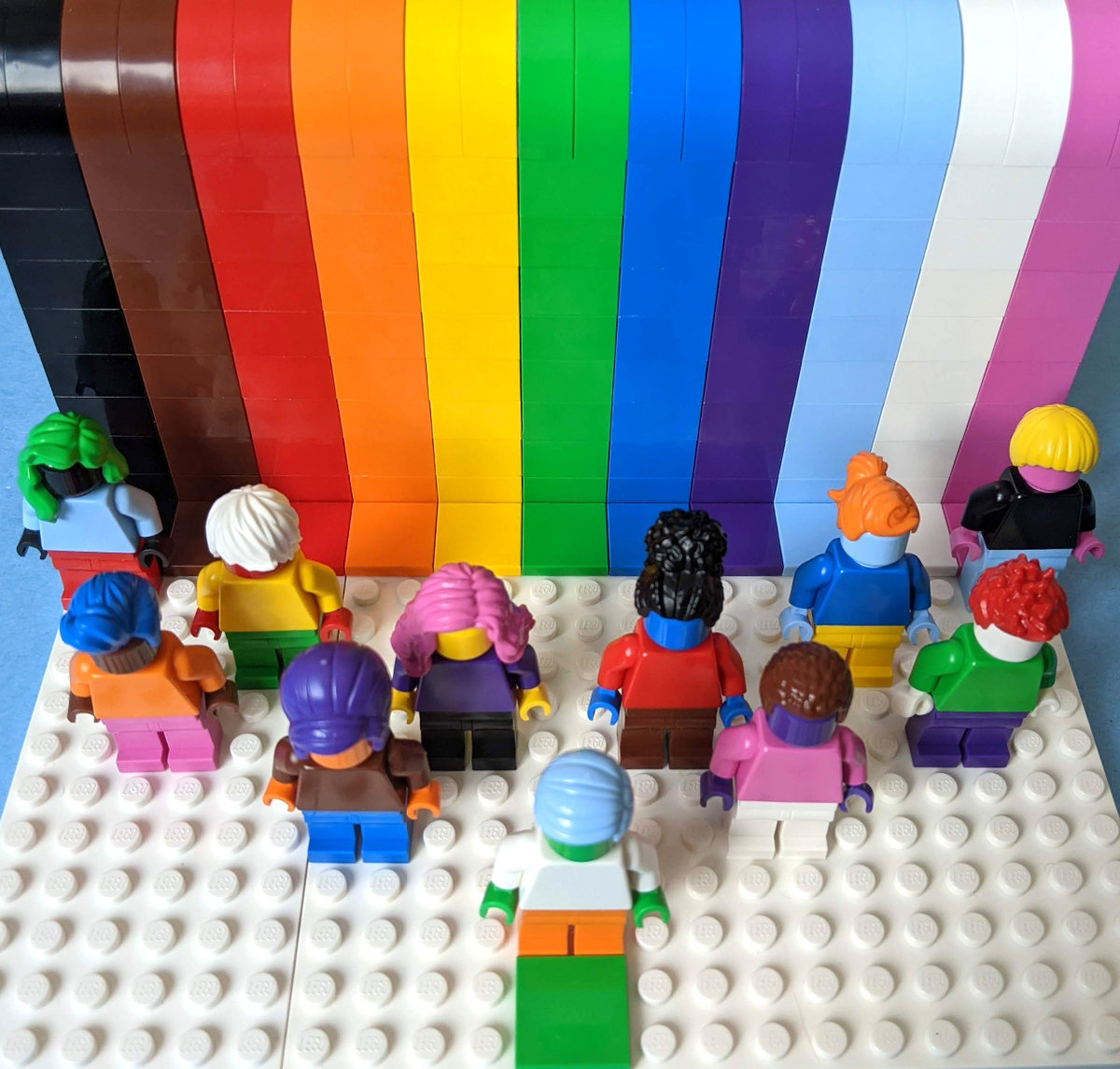 I spread the figures out, because I needed to create physical space for the tools and support needs of those with disabilities. In a way, it is also a metaphorical space for our exceptional needs which are so often overlooked or ignored. I felt this "flying geese" formation generated a nice sense of community as well.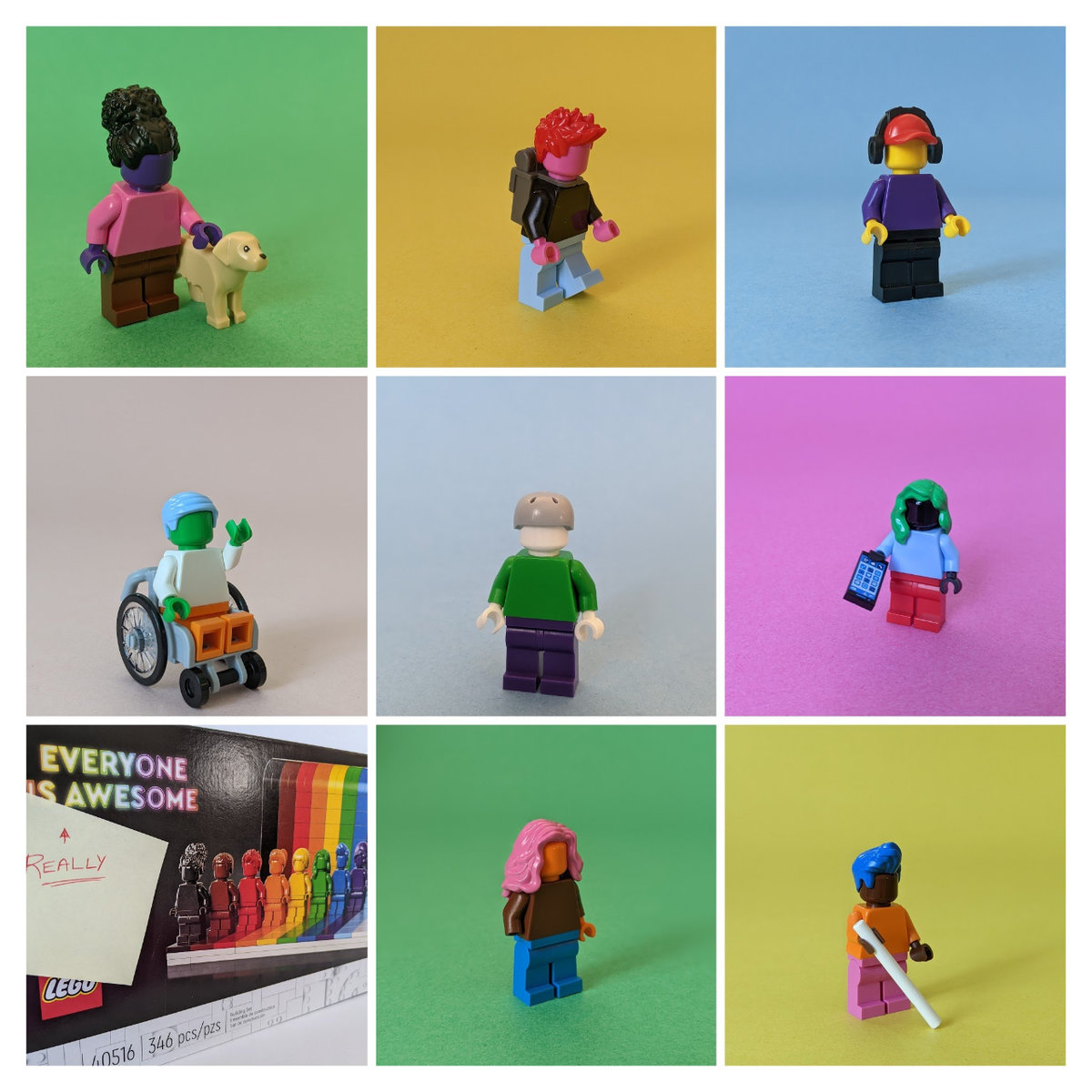 In the end I modified eight of the 11 figures.
Service dog - visual impairment, hearing impairment, emotional support needs, etc.
Backpack - medical equipment, homelessness
Hat with visor and ear protection - sensory sensitivities, autism
Wheelchair - physical disability
Helmet - personal safety needs
Tablet - augmentative communication device
Hand removed - congenital difference, amputation
Cane - visual impairment, physical disability
And I like to think that the remaining three figures have invisible exceptionalities such as Tourette's Syndrome, ADHD, schizophrenia, or chronic pain.

And here is the end result: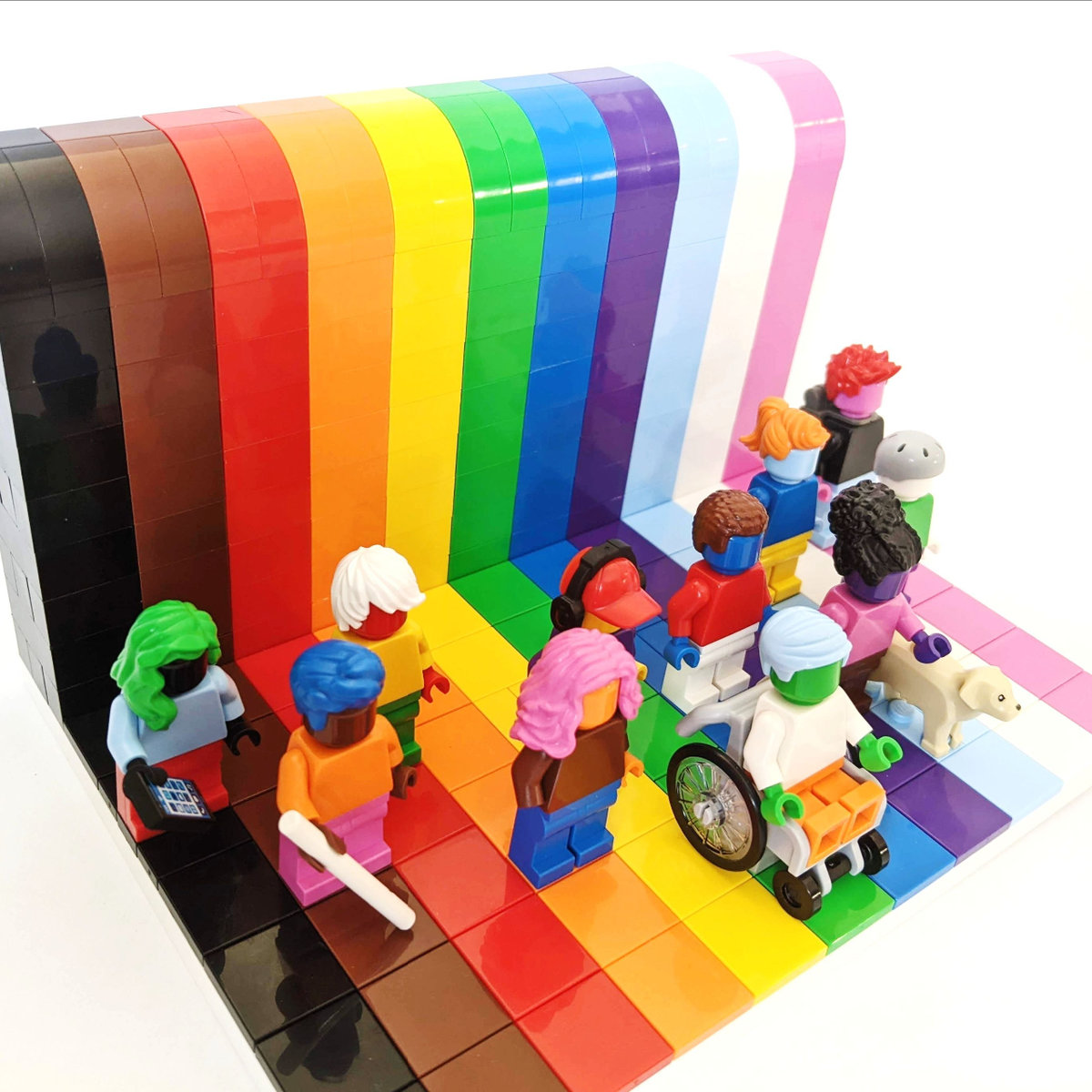 As a person with invisible exceptionalities, I am still on the lookout for signs of inclusion and representation in businesses and organizations. If they welcome and support other under represented groups, they will likely welcome and support my neurodivergent self as well. Waterloo Region Family Network plans to display this customized set in our new office in the near future, so please check it out the next time you visit!

You are seen. You are valued.