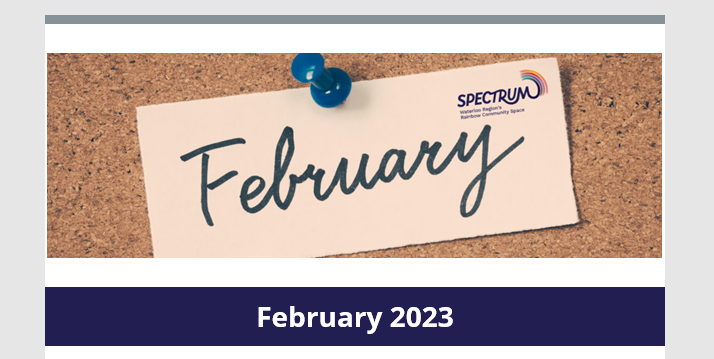 February is Black History Month
We are observing Black History Month. We know that some Black rainbow folks have not had good experiences with Spectrum in the past and we are working to become a safer and more welcoming space for all. Our staff and board are taking The Foundations of Equity, and The Anti-Black Racism programs from KOJO Institute this month.
Since the summer, we have also been working on a project to do more community engagement with Black, Indigenous, and racialized queer folks. This work has included surveys, interviews, and community circles and we're very grateful to all those who have taken the time to help us learn and improve. Our findings will be available publicly later this year.
Visit our blog weekly in February to read profiles of African, Caribbean, and Black folks who are making a difference in our community and beyond! The first profile is available now and others will follow each week.
Community Calendar
Check out the Rainbow Community Calendar where you'll find details on SPECTRUM's groups and events. This is also your clearinghouse of 2SLGBTQIA+ events in Waterloo Region. 
We look forward to seeing you at our events this month! 
2SLGBTQIA+ Young Adults (age 25-40) Discussion Groups
Thanks to a grant from the Region of Waterloo Upstream Fund we are able to provide a monthly discussion group for 2SLGBTQIA+ Young Adults (age 25-40). This group will meet at Spectrum (and virtually) on the second Wednesday of each month from 7-9pm. Join Emily C. and Scott H. and meet other queer adults for conversation and networking.
Spectrum Library
Hello! Welcome to the Librarian's Corner. Each month this section of the newsletter will highlight what's going on at the Spectrum Lending Library and highlight some of the new books and DVDs which have been generously donated.
Recently at the library we've created a new space for Indigenous, Two-spirit and Indigiqueer books! From John Borrows' writings on Indigenous legal systems, Joshua Whitehead and Ma-Nee Chacaby's stories of life as a Two-Spirit person, or other books on reconciliation, identity, and Indigenous rights and treaty, this section covers a wide variety of topics.
Other recent additions to our collection include: Young Adult books Ciel and Ciel, in all directions by Sophie Labelle; The memoir, Are You Two Sisters? by Susan Krieger; A large collection of mystery novels by Ellen Hart; A number of romance novels by Radclyffe; Hesha Vira's Challenge by local author Lyn McGinnis; The humorous writing of Dan Savage in Savage Love; And explorations of 2SLGBTQ+ history in the books Odd Girls and Twilight Lovers by Lillian Faderman and Outlaw Marriages by Rodger Streitmatter.
Come on down to the Spectrum Library to check out these books and more! And if you have anyqueer/2SLGBTQ+ books laying around, please consider donating them to the library by dropping them off at Spectrum directly.
2SLGBTQIA+ Book Club
On the subject of books, we are pleased to be relaunching our 2SLGBTQIA+ Book Club in partnership with Rad Riot Books! We'll be highlighting works by queer and trans writers from around the world. We will meet on the last Monday of each month at 7pm at Spectrum. The title for February is The New Life by Tom Crewe. We hope you can attend on February 27th! Click here to join.
Calling all rainbow youth!
Chris Vautour is a lesbian filmmaker doing a documentary about the Robin's Nest, a queer bar that was open in Cambridge for more than 30 years. Chris is looking to connect with young people to share queer history, hear what their experiences are around dedicated space today and learn more about how multi-generational queer experiences are the same or different.  Join us on February 22nd at 7pm. Click here to register
Rainbow Diversity Training 201
In Spectrum's Rainbow Diversity Training 201 workshop you will build on the knowledge gained in 101 and learn more about 2SLGBTQIA+ allyship. Join us virtually on February 24th from 10am-12pm to understand the principal challenges facing 2SLGBTQ+ people in Canada today, and practice and explore strategies for dismantling one's own misconceptions and becoming a better ally. Click here to register
2SLGBTQIA+ Perinatal Support Group.
This will be an eight-week closed group where participants can share and process fertility, pregnancy, birth and postpartum issues with the guidance of registered social worker Jessie Myhill (they/them) and psychotherapy student and former birth worker Beth Murch (she/her). The group will take place on Wednesdays from 1-2:30pm from February 8-March 29. Registration is FREE!  Contact info@togetherwaterloo.ca