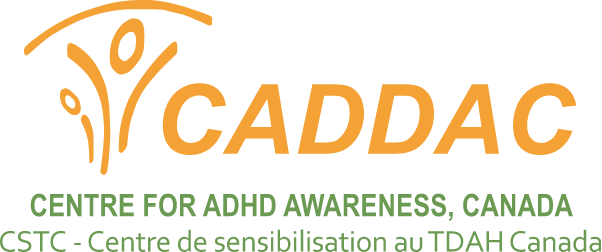 Our 15th Annual ADHD Conference is coming this fall!
October 28th & 29th, 2023
Calgary, Alberta
CADDAC's ADHD Conference provides information for adults with ADHD, parents and/or caregivers of children with ADHD, as well as educators and allied health professionals.
For full details and to purchase tickets, click here
Interested in sponsoring our 15th Annual ADHD Conference?
Contact Christine Lynch at christine.lynch@caddac.ca
ADHD Stories
ADHD in Children: Daniel's Journey
Helpless, Daniel's mom noted signs of ADHD in her young son. Managing his impulsive behaviour and intense feelings strained their small family to the limits of love. Friends offered baseless advice; the family met stark and painful teacher biases every school year.
The heartrending decision to pursue diagnosis wasn't a perfect solution - there was still that sinking feeling of defeat each time they arrived at the school to hear a long list of everything that Daniel had done wrong.
Click here to continue reading.
Workshop: ADHD in the Workplace
Is your company looking to learn more about Neurodiversity in the workplace? CADDAC's new ADHD workshop is designed for Managers and HR Professionals working with people with ADHD.
By the end of the workshop, participants will have a deeper understanding of ADHD and how it can impact work performance, as well as practical tools and strategies to ensure employees with ADHD are able to thrive in the workplace.
If your company is interested, please click here to contact us for more information!
CADDAC Events
Toronto Waterfront Marathon
In-person marathon on October 15th, 2023
Virtual marathon October 1 - 31, 2023
What's New - Articles on ADHD
How to Motivate for Cleaning House When You Really Don't Want To
Like most people who have ADHD, I often struggle to make myself do boring tasks. And in my mind, nothing is more boring than cleaning house. My brain craves stimulation and novelty, and the repetitive dull nature of cleaning is kryptonite to me. Click here to read more.
Calming activities for ADHD: How to relax an overactive mind
Racing thoughts and rumination, the total absence of calm is what rules many an ADHD mind.Keeping your cool can be challenging. Sometimes it feels impossible to relax for even a second. But there are a lot of activities that can help calm down the ever-occupied ADHD mind. Click here to read more
Why Are So Many Midlife Women Being Diagnosed With ADHD?
 
When we think of ADHD, we often imagine a little boy running wildly around a classroom. Until recently, the face of this disorder was certainly not a 40-something woman. But as ADHD diagnoses in adult women surge, a fuller picture of this disorder is emerging. Click here to read more.