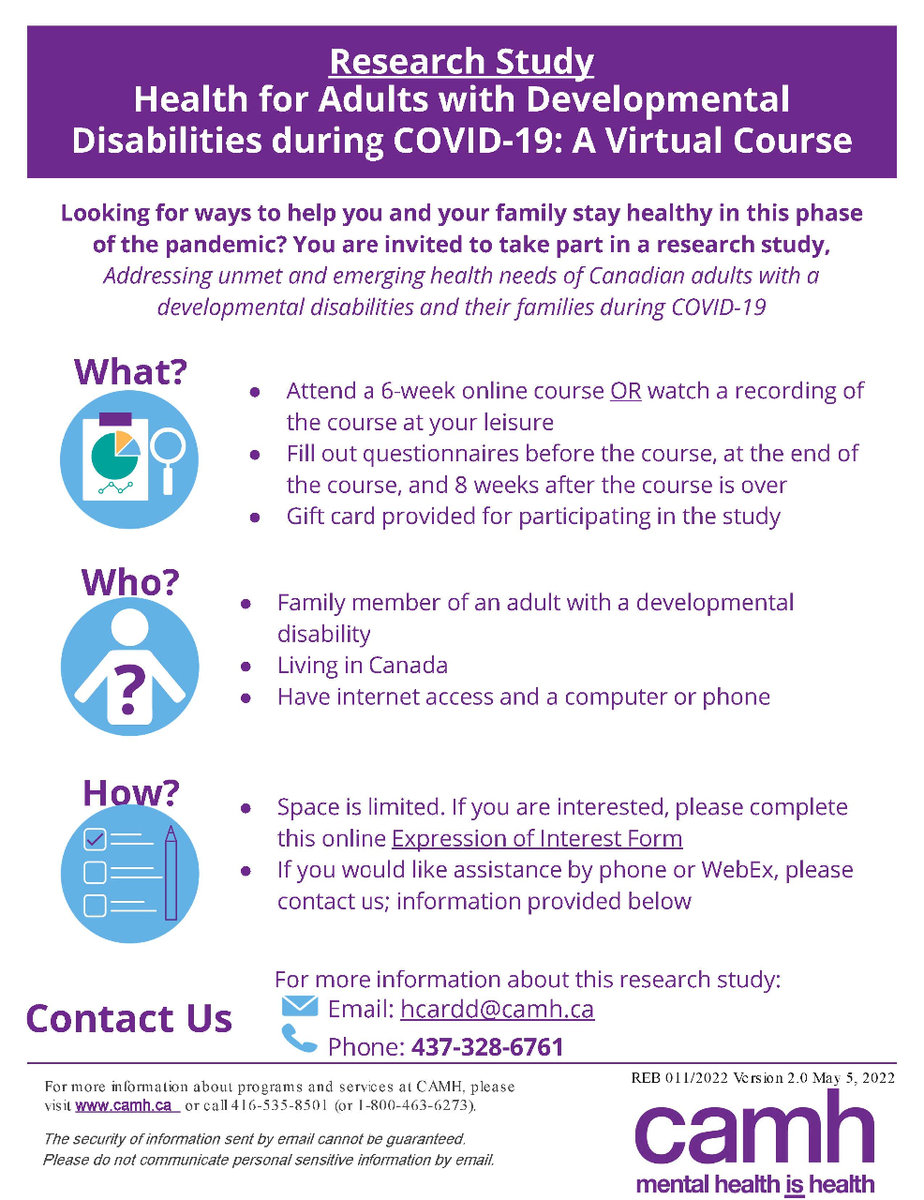 Looking for ways to help you and your family stay healthy in the next phase of the pandemic? You are invited to take part in a research study, Addressing unmet and emerging health needs of Canadian adults with intellectual and developmental disabilities and their families during COVID-19.
We are looking to recruit family caregivers of adults with intellectual and/or developmental disabilities from across Canada to evaluate the impact of offering a virtual education program.
Course Options - The course runs for six weeks and you can choose from two options:
Option 1: Live Online: Attend every Tuesday, from June 7-July 12, 12:30-2:00pm EDT
Option 2: Offline, Video Recording: View each session each week, at your leisure, from June 14-July 19
What does participation involve?  If you choose to participate, you would:
(Option 1 only): Attend an optional 30-45 minute orientation session prior to the start of the course;
(Option 1 only): Attend an interactive weekly online course for 6 weeks;
(Option 2 only): View weekly webinars for 6 weeks, each 45-60 minutes long. New webinar sessions will be sent to you weekly.
Complete a series of online questionnaires that take about 25-35 minutes each (before the course, at the end of the course, and 8 weeks after the course is over);
Complete a 5-minutes weekly satisfaction survey after each session;
Participate in an optional focus group to discuss your experience after the course is over;
Receive a gift card at the end of the study for participating.
What are the topics covered?
This course is designed and delivered by family caregivers alongside medical and mental health experts specializing in the care of adults with intellectual and developmental disabilities. Over the six sessions, you will learn ways to stay healthy in this phase of the pandemic, including:
Keeping it all together: Multiple health conditions, health care communication when working with multiple providers
Building healthy lives – Developing healthy routines, keeping them, and adapting them
Finding the Balance: Balancing our loved ones' health needs with our own
There is no cost to participate in this research. Participation is completely voluntary and will not affect any present or future services provided by CAMH. Any information collected for this study will be confidential.
To participate, complete the Expression of Interest Form here: https://edc.camhx.ca/redcap/surveys/?s=M3D7WREX3THMLDFY
For more information or support, please contact the CAMH research staff by email hcardd@camh.ca or by phone 437-328-6761. Please see the attached poster for more information.